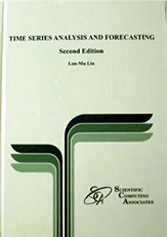 (April 09, Version 2.2)
By Lon-Mu Liu, Ph.D., Univ. of Illinois at Chicago

ISBN: 978-0-9765056-8-6 Format: Hardcover; 578 pp
Price: $60.00 for a limited time (regularly $75.00)
(90-day version of SCA Practitioner Edition for $30 more)

This book is one of the most important works written on applied time series analysis and forecasting. The author achieves this goal by distilling and integrating important research results on time series analysis and forecasting into cohesive and comprehensible methodologies.

Copyright © All rights reserved. Scientific Computing Associates Corp.
TEL: +708-771-4567  FAX: +708-771-4569 EMAIL:
sca@scausa.com