What's New in SCA?

SCA Statistical System


Release 8.1 of the SCA System goes far beyond the scope of other software when it comes to forecasting, modeling, and analyzing time series data. SCA is used as an integrated engine driving forecasting applications, as a standalone statistical system for research and time series applications, and as an educational tool for universities.
B34S Econometric System


B34S ProSeries is a full-featured econometric system. It provides comprehensive capabilities that encompass a variety of cross-sectional, linear and nonlinear predictive modeling, and time series modeling methods. Users will also appreciate the ability to customize user-defined procedures and routines through a generalized matrix programming environment.
Textbook for Time Series Analysis and Forecasting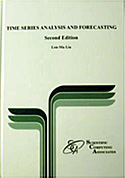 "I highly recommend this book for anyone seeking practical knowledge in the methods of time series analysis and forecasting. The author does a wonderful job at distilling the vast amount of research available in this field to a comprehensible and streamlined approach to time series analysis and forecasting ….." by C. Chen, Professor of Finance, Syracuse University
(see this review and others on Amazon.com)
Consulting Services

SCA has the "know-how" and proven experience to deliver a winning solution that maximizes our client's investment andminimizes risk. SCA is a team of statisticians, econometricians, business analysts, and IT professionals providing consulting services and systems integration solutions to businesses worldwide
Large-scale corporate forecasting systems
Software customization and integration
Decision support systems
General R&D projects